April 19, 2009
The plan was simple: Tyndall in a day. But as I made the pitch to my climbing partners, one by one they found various reasons to be elsewhere. And who could blame them? To get to 14,018′ Mount Tyndall, you must first contend with one of the worst approaches in the entire Sierra—the Shepherd Pass trail (more…)
April 3, 2009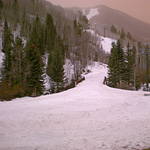 Telluride Dust Storm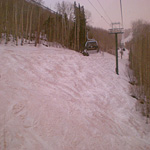 Red Snow
Well, instead of snow, so far we're just getting more dust. As the afternoon progressed, the sky grew more and more pink, and the snow started to look as if God had sprinkled cayenne pepper everywhere.
What a mess!
Adding to the atmosphere, today is Telluride's end-of-season celebration downtown, so a live band is playing while costumed revelers party down.
All that's missing to complete this surreal image are some radiation-stunted mutants trolling about in the shadows, and Mel Gibson leading a fuel convoy at breakneck speeds down the highway.
It's hard not to look at this as some sort of bleak preview of future scenes to come. "It looks like a movie," my Mom said as we rode up the Gondola. "And not a movie I want to see." (more…)
April 1, 2009
Literally—more new snow today; more powder skiing. Ordinarily these are the kinds of days that would have kept my dad off the mountain, but he got a new pair of Volkl Mantras, and I have to say, the skis have made a huge difference. He not only skied today…he had fun. I'm going to have to put up a review of those Mantras (more…)
March 31, 2009
The upside of April showers is…fresh tracks on the hike-to terrain. Did the walk up the ridge to the top of Black Iron Bowl's Dihedral Chute. This is just such a fun, classic line, and getting it with untracked powder was oh-so-nice. What a beautiful day this was! There's hardly anybody on the mountain right now, so there was no rush to get untracked snow even on the lift-served stuff. New storm supposed to be (more…)
March 28, 2009
Just a heck of a fun day today at the Arizona Snowbowl. Some kind of an informal race going on at the resort, so the place was filled with kids in costumes. That kind of completed the picture: warm Spring skiing, smooth silky corn, lots of good vibes. Perfect.
March 28, 2009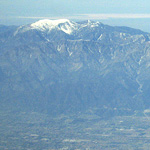 Mount San Antonio
Mount San Jacinto
Hopped a flight to AZ yesterday, en route again to Colorado for a little fun. I got a chance to snap a few photos of the Southern California mountains to check snow conditions.
Things look pretty burnt.
Baldy Bowl is starting to look bare, even above the Ski Hut, though I'm sure there are still a few good snowfields to be found. Interestingly, the South aspects between the two summits still look terrific.
Gorgonio has snow, and presumably the north aspects are still in good shape on both mountains. Our flight took a sort of angle over San Jacinto. Didn't get a chance to see the Snow Creek route (north facing), but I got a great view of Round Valley and the east face.
March 14, 2009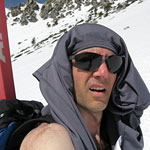 Heating Up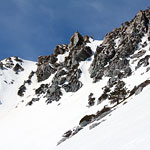 Dare; Hourglass; Girly Man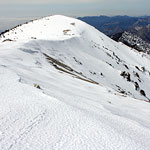 Summit, looking Northwest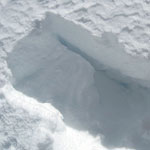 A Quick NF Snowpit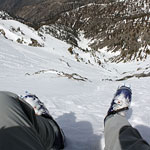 A Long Way Down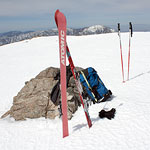 Back Atop the Summit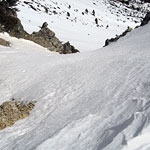 Dostie's Dare—Entrance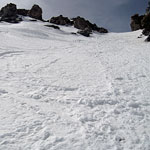 Skiing the Dare Chute
Well this was a fun day! For today's ski agenda, I thought I'd climb up Mount Baldy, give the north face a look-see, ski a piece of it if feasible, then climb back up to the summit and drop one of the Baldy Bowl Chutes.
Ordinarily when I'm feeling North Face aspirations, I like to start from the ski area and the Backbone trail, just to reduce the vertical load. But I decided to do the climb starting from the lowly Manker Flat trailhead. After all, I do have a list of big Sierra ambitions on my April agenda, and what better way is there to prepare for ultramarathon ski tours than to put a little extra hurt on the body?
First of all, today was very warm. Forgot my favorite sun hat, so I improvised to try to keep my head from getting cooked.
As for snow, it's no longer possible to ski below the Ski Hut. That said, the bowl itself was in terrific shape: smooth, consolidated corn, just fabulous spring conditions. And very warm—so get an early start.
Any way you look at it, it's a long way up to the summit from Manker Flat. I left skins in the car and just cramponed up with skis on my back. This is definitely less efficient than skinning, but it's also faster.
Atop Baldy I had a snack and then snapped into my skis for a northward look. Baldy's north face can be pure, death-ride ice, so be very cautious if you're thinking about skiing it. Last winter, in fact, the NF never softened (as far as I know) and remained unskiable all through Spring.
Today the north face was hardly offering good skiing, but it was viable at least. Kind of a windboardy crusty mess with just enough bite to get a decent edge into the snow. Given that the north face is…well, north facing, I did dig a quick pit. Interesting stuff: about 12″ of slab on top of maybe 3-4 feet of unconsolidated (but fine-grained), sugary snow. I did get some alarmingly clean shears when I pounded on a few columns, but I couldn't get any indication of propogation beyond.
I would have expected a denser snow pack after all the warm temps we've been having, but where snowpack is concerned, Baldy's north face always seems to exist in its own separate universe. Treat it with care.
I skied about 500 vertical feet down the middle of the face—which was plenty. Climbing out meant post-holing all the way back to the summit, and that more than satisfied my desire to get a workout.
One final note just in case it's not obvious: if you keep going down here, you're not coming home…unless you think you can swim the San Gabriel River through the most remote part of the San Gabriel Mountains.
It felt good to be back on top of the mountain. In contrast to the north aspects, the upper south face was just primo skiing: smooth, velvety snow that invited big GS turns and even bigger smiles.
I traversed past the Girly Man Chute (which looked completely burnt: 55° and thin coverage) and Hourglass, and decided to ski Dostie's Dare, which looked reasonable (the name, I believe, comes from former Couloir Mag publisher and anti-government radical Craig Dostie).
Dostie's Dare was just good clean fun. Steep but not scary, on good slushy corn. Like all of the Baldy Bowl chutes, the Dare is a short but sweet line that manages to feel a whole lot bigger when you drop in for a visit.
It was now a little late in the day for the best skiing, but the open bowl down to the Ski Hut still offered a great descent. I just love that sensation of blasting over velvety spring corn snow. Sublime!
The walk from the hut down to Manker flat was painful—literally. 2000′ vertical feet is a long way to hike down in my megarides, which are about one half shell size too small for me. Great for skiing, but not so good for pounding the trail. I think I'll bring a set of hiking boots for the lower section next time, and just carry my boots. That's it for the report. Try to get on top of the ridge by 10:30 a.m. tomorrow for the best skiing in the Bowl. As for the north face, it would be wise to wait a little more for things to soften and consolidate.
March 2, 2009
Well we're working our way back home now, with a stopoff in Flagstaff for a few days. I'd kind of hoped to do some sort of backcountry tour out here, but a week of record temps has just nuked the snowpack. Plus the forest service has all the key access roads closed, and I'm thinking, let's save the big gruels for the Eastern Sierra, eh? (more…)
February 27, 2009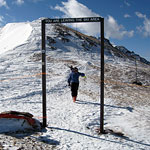 Backcountry Access
Hiking the Ridge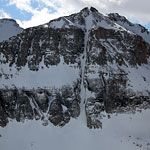 San Joaquin Couloir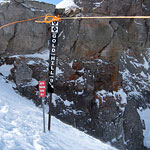 Gold 9's Access Gate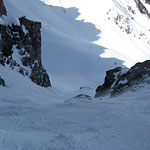 Looking Down the Chute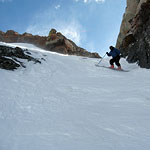 Skiing the Upper Chute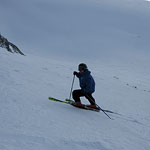 Lower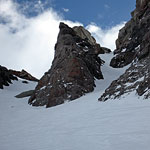 Gold 10 & Patrol
Gold Hill Chutes 6-10
9:44 am atop Telluride, elevation 12,570′. A cold wind blasts across the ridge as my brother and I hop off the Revelation Lift and check the signs near the patrol hut.
Telluride's Gold Hill Chutes are open.
It's our last day here this year, and this will be a fine way to cap off the visit—hiking the latest addition to Telluride's seemingly ever-growing offering of stunning hike-to terrain.
Our target today is Gold 9, the second farthest of the chutes. The scouting report on Gold Hill Chute No. 9 suggests that this is the safest and least technical line, at least given current coverage.
The hike to the Gold Hill Chutes takes us immediately out of bounds, though the resort's backcountry access gate. This is perhaps a good reminder that we're entering wild country here. Though the chutes themselves may be controlled terrain, the hike is anything but trivial.
In fact, with the wind constantly rocking us, the hike atop the often-steep and exposed ridgeline will be by far the scariest part of the day.
The views, as usual, are stunning. San Joaquin bowl is to our left, as well as the uber-aesthetic San Joaquin Couloir.
A last bit of steep, rocky ridge climbing gets us to Gold 9's entrance. Access points to the Gold Hill Chutes are tightly controlled. Entry is through gates only—to help prevent the hapless from dropping into cliff-bound lines.
I take a peek down the chute and am pleased to see first of all that we are where we though we were (always good) and that Gold 9 does indeed look (to me!) like a modest descent: 40-45 degrees on hard windslab, with only a few rock gardens below to add a bit of drama.
The fact of the matter is that this kind of skiing is what I do. But how can I convey how unusual it is to be accessing terrain like this as part of a major U.S. ski resort's controlled in-bounds terrain?
It makes me want to kiss the nearest ski patroller.
I bang out a few happy turns, being careful to keep things well under control. My brother follows, looking perhaps a tad more wide-eyed as he drops into the chute.
On hard snow this is somewhat committing skiing, but it's easy to imagine dropping in to smooth tasty powder. Telluride's ski patrol are doing an amazing job of opening up these lines, along with nearby Palmyra Peak, even when the snow is fresh.
Lower in the chute the angle stays interesting. I stop to take a look at our neighbor, Chute No. 10. A ski patrol is currently doing the delicate dance of making his way through the narrows.
Gold 10 definitely looks like a more ambitious line.
We'll have to give it a try next time.
A few more turns get us into the rolling terrain of Black Iron Bowl. Here, the snow is not so friendly: breakable crust alternating with windboard, with flat light to boot.
We pass through easily enough, and just like that we're back into Telluride proper, skiing perfect corduroy groomers back to the Gold Hill Lift. This abrupt transition of in and out-of-bounds terrain can take some getting used to—but it surely puts a smile on my face. We've just skied the kind of terrain that ordinarily takes hours to access. And now we're back in time for lunch.
February 22, 2009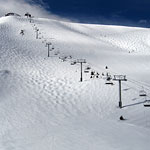 Revelation Bowl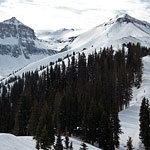 Telluride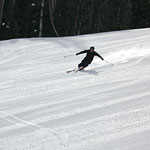 GS Boards Today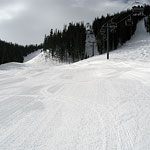 Chair 9
It feels like Europe says my brother. We are traversing into Telluride's newest terrain addition: Revelation Bowl. And yes, I think to myself, that's exactly what this is like.
With its striking, high altitude bowl, steep, wind-hardened snow, and views of technical terrain in every direction, Revelation Bowl could easily be mistaken for the French Alps. There's even a euro-style view deck by the base of the chairlift from which to sip beverages and marvel at the surrounding San Juans.
The Revelation chair hardly adds huge swaths of terrain to Telluride's already-impressive official sweep. Instead, this addition is more of a tweaking of the Telluride experience—or perhaps a continuation of the inevitable evolution toward high-altitude open bowl skiing.
With lift-served skiing now reaching 12,570 feet, Revelation Bowl sits well above tree line, offering groomed and wild terrain that feels exposed enough to put the butterflies back in your in-bounds ski experience.
A few runs of this, and my brother and I zip back to chair 9's steeps, which suddenly feel a whole lot flatter. Yep: just like Europe.
It's Day One of our yearly week in Telluride, and already the mountain has offered up a memorable start. Adding to the attractions: the Gold Chutes are open for hike-to skiing. These steep-skiing lines were officially closed to the public last year—at least while we were visiting.
And of course, there's always a date with Palmyra Peak on the agenda. This year I've got my full backcountry kit to make the Up a little easier, plus two beacons, just in case my brother decides to join me. As for true backcountry endeavors, I think I'm going to do my best to behave. Solo ventures in unfamiliar waters really aren't smart. Maybe if it was March—though I'd sure love to drop down into Bear Creek Canyon. Maybe peek into San Joaquin Peak's north couloir as well…
→ More SierraDescentsPrevious Posts ↵