January 28, 2008
I figured the storms were about finished yesterday, with widely scattered showers here at home that seemed to be petering out as the day went by. Then last night I was awoken by the sound of heavy rain that didn't seem to quit untill morning.
In case you're wondering what happened in the local mountains, Mountain High reports 12-20″ of snow overnight, and Mount Baldy reports 18″ of new snow on top of yesterday's 6-12″ wet dump. Again, lots of warnings about weather, road restrictions, lift delays, closures, etc. And please — stay out of the backcountry today!
But still…Wow.
January 27, 2008
Today's Los Angeles Times has more coverage on the Mountain High/Wrightwood Avalanches, with some commentary from avalanche professionals:
"There have been avalanche fatalities since people have been in the Alps, but what has changed is the equipment has gotten better and there's a lot of hype associated with the outdoor retail industry," said Sue Burak, an avalanche forecaster for the Eastern Sierra Avalanche Center. "They're encouraging people to go out, and the level of backcountry skills haven't caught up with the technology."
And:
"In Southern California, having these big dumps of powder are not real common," said Northwest Avalanche Institute expert Paul Baugher. "And so there's two things going on here. One is, people are sort of unfamiliar with how dangerous this can be. Even if you're a professional, you don't have that experience of actually seeing these [avalanches] released. On top of that, it's so rare. It's wonderful skiing, and you're drawn to that."
Here's the full article.
January 27, 2008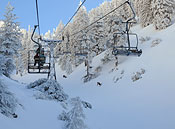 Judging by the massive crowds heading up Mount Baldy Road yesterday, I suppose it's no secret when it snows that Southern California's best skiing happens at a quirky little 'resort' called the Mount Baldy Ski Area (more…)
January 26, 2008
Three people died yesterday in at least two separate avalanches near Mountain High ski resort, in the San Gabriel Mountains. According to the Los Angeles Times, the incidents occurred in Government and Sawmill Canyons, both of which border Mountain High East. These Canyons, which are out-of-bounds, are treed but relatively open. Both canyons run north-south. At this time, I've seen no reports on which aspects slid, though it would be reasonable to suspect something northeasterly (more…)
January 25, 2008
Well, they say cut-off lows are the forecaster's nightmare, and it's easy to see why, as last night's forecast of occasional showers turned instead into a gutter-busting sustained heavy downpour. Rainfall totals and forecasts have jumped overnight. They're now calling for 2-3 inches of coastal-area rain and 4-6 inches of foothill-area rain today before the big storm hits.
The tragic part of the forecast calls for the cutoff low to delay the arrival of the main storm, allowing it to pick up subtropical moisture (the dreaded pineapple express). This will push the rainfall totals up even higher, but it will also push up the snow level, from a current 5000′ to 8000′ or higher, destroying all that precious white stuff that's been laid down at the lower elevations. That won't impact the higher backcountry elevations, but it will nuke most of the local ski areas' snowpacks.
If you can get there, Mt. Baldy Ski Area looks like the way to go today (though expect delays/a late start as they work to dig themselves out).
January 24, 2008
Somewhere around 7 p.m. yesterday, after four hours of steady rain, this storm began to turn me into a believer—right before the skies cleared.

Still, this was a nice punch of moisture, with (much?) more on the way. Mt. Baldy reports 12-14″ of new snow, Mountain High 10-18″, and Mammoth 5″ new with a 15″ storm total. Not too shabby for the SoCal resorts! Elsewhere, heavy rain caused the usual problems in the basin, Santa Barbara set a 24-hour rain record, and for motorists on I-5, the Grapevine became a snowy hell.
Thanks to very cool temps, backcountry lines could be skiable much lower than we've seen in the San Gabriels so far this year, but don't go racing out to try them. You could hit only the most conservative lines in the b.c. and watch every turn like a hawk, but why bother? Continued new snow and stormy weather should make in-bounds skiing your mode of choice through the weekend. Be patient—and safe!
January 23, 2008
My brother and I talked about climbing Mount Kilimanjaro years ago; for us, it was one of those exotic, chance-of-a-lifetime dreams. Sadly, the trip fell through, and we never went.
While not a technical climb, 19,340′ Kilimanjaro has long been a coveted summit. The view atop the summit at dawn is legendary. And the climb up, starting in African rain forest, and ultimately reaching the continent's highest (and glaciated) point, is surely one of the most diverse imaginable.
Kili's popularity has been growing in recent years, fueled by a "see the snow before it's gone" pitch. Most scientists believe Kilimanjaro's glaciers will vanish sometime this century. That has translated into something of a tourist boom. I don't know if my brother and I will ever make it to Kilimanjaro, but if we do, I doubt we'll be carrying skis.
January 22, 2008
Looking out the window here at fairly menacing clouds that haven't managed to do much in the way of rain or snow in the local mountains thus far. Mt. Baldy reported a trace of snow overnight. Ie: nothing. This storm is notable for its cold temps—very cold. I'm brewing up another cup of tea down here in not-so-sunny SoCal to chase away the shivers (more…)
January 22, 2008
NBC has an unusually good online video of a K2 expedition—the 'Shared Summits' attempt, which was captured in Hi-Def.
Hi-Definition footage is really changing how I think of television. Previous to the technology, you'd need a virtual army to take a 35mm Panavision camera on a trip like this. Now, with tiny HD cameras, even a small expedition can return with theater-quality video that gives the viewer a vastly more real experience.
That makes it possible for us to see video like this: a fast-and-light team trying for a new route up one of the world's most dangerous and deadly peaks.
January 21, 2008
Truly tragic news here: on Saturday I lost my Spot tracker while testing the device in the San Gabriel mountains. I've been continuing to try out the unit's 'track' function, which automatically sends a satellite ping every 10 minutes with your current location & time (more…)