December 19, 2009
It's boot review season here at Sierra Descents—I'm currently trying out pairs of Garmont's Radium and Helium boots, Scarpa's Spirit 4, and the much-anticipated Black Diamond Factor. Along for comparison were my trusty Lange L10′s and Garmont Mega Rides. I should have reviews up on all of them after the holidays. In the meantime, I had fun and thoroughly wore myself out mixing and matching boots inbounds today at Mountain High East ski resort. Video shows me on one Lange and one Factor going down Gold Rush, shot via the Contour 720p helmet cam. Tricky thing with the Contour is mounting the damn thing. Today I was using the goggle strap attachment, which is why the video is both crooked (listing right) and so jiggly. Maybe the goggle attachment works better with a helmet? Ah well, I'll keep working at it…
December 13, 2009
As Forest Gump might say, Mount Baldy Ski Area is like a box of chocolates: you never know what you're going to get. Made it up today to the ski area for some early-season inbounds turns—or so I hoped. Turns out yesterday's storm rained ruthlessly on the mountain even above the notch, coating everything with ice, ice, ice, including the chairlifts. Snowpack other than ice could hardly be called ample. There was quite a lot of bare rock, which blended nicely with the ice motif. I amused myself by playing around with my Canon Vixia HF200 (hence the HD footage) and testing out some new gear.
As the Ski Patrol worked to clear the lifts and get something—anything—open, and crowds of patient skiers and boarders milled aimlessly about the lodge, I took matters in my own hands and started hiking up. Got about 3/4 of the way up Thunder Mountain when a ski patrol was kind enough to tell me the lift had just opened. I topped out just to be thorough, and then skied a few runs. In between sheets of ice there were patches of some very nice and fluffy snow—fresh from last night, when the snow level dropped a bit. To be honest the patrol and ski area crew were working hard to shape things up today, including making a very focused grooming effort. Call me crazy, but there seems to be a spark of life about Mt. Baldy's employees this year. Maybe they're flush with cash after selling all those $49.00 ski passes. Or maybe it's the promise of an El Nino year.
Despite the ice, it felt good to get up in the mountains and get on some snow. When Mt. Baldy's (aka Mount San Antonio's) 10,000′ summit popped into view, I saw what looked like very impressive coverage from about 9500′ on up. For those of you thinking about hiking and/or skiing Baldy Bowl from the Manker Flat trailhead, be especially wary of ice. It's going to be a skating rink out there for a while, I fear. Manker Flat, by the way, was just about the start of the snow level. There is probably no skiing or even skinning possibilities below, say, the elevation of the Ski Hut. For now, backcountry skiers may want to look to the San Bernardino or San Jacinto Mts.
October 31, 2009
How about a little time traveling today? We're setting the WayBack Machine for some skinny-ski fun in Northern Arizona's beautiful San Francisco Peaks. You might think I'm crazy, but the Peaks have some of my all-time favorite backcountry skiing terrain. Plus—in this video—fantastically light and dry powder snow.
The San Francisco Peaks are the remnants of a big volcano that blew its top long ago. Geologists speculate the mountain stood around 16,000′ high before the big boom. On the plus side, the explosion created Inner Basin, a giant, horseshoe-shaped basin which is what remains of the original volcano's crater. Inner Basin is easily accessed via the Arizona Snow Bowl's main chairlift, which gets you within 500 vertical feet of the rim. Drop down the backside into backcountry skiing paradise, including Core Ridge, which features the steepest terrain on the entire mountain (for more color on this exciting part of the Peaks, check out Falling Headfirst Down an Ice Cliff ).
The video features me (red and blue jacket, teal pack) and friends skiing Inner Basin back in March 1990(!), including a traverse along Core Ridge to a very steep north-facing couloir we named "Powell's Prayer" in honor of a big fall our friend took down it on what might have been the first descent (there is also the possibility that another Flagstaff skier beat us to it and skied it all the way back in the 1970′s; however, there are many north facing couloirs off Core Ridge, so there was some confusion as to which one he'd actually skied).
During this trip I set my all-time Big Air record, which remains around 30 vertical feet. I know—not much by today's standards. On the first pass, I approached the headwall tentatively and barely cleared the snow. So I hit it again, this time determined to take flight by ramping up my speed. Unfortunately (or fortunately, depending on your point of view), I flew well beyond the landing zone and bombed into a flat but thankfully powder-covered slope. This inspired two friends behind me to go big as well, with mostly similar results. After that, we traversed to the couloir, which probably averages at least 45° in steepness and pinches down to right around 205cm at the choke point—coincidentally the length of my vintage Rossi GS boards. Ah, good times. Enjoy the video!
October 14, 2009
Time to enable the snow script! Mammoth reports 14″ of new snow in the past 24 hours, and down here in the Basin we've been soggy since yesterday morning, making this a very, very impressive October storm for California—and much needed!
This Saturday, October 17th, the Sierra Club Angeles Chapter Ski Mountaineer's Section kicks off the coming ski season with its annual pot-luck get together. Along with food there will also be a gear swap, as well as trip planning. As always, this is a great opportunity to meet ski partners, find mentors, and just generally have a good time with folks who like to ski the backcountry. The SMS will be 75 years old this November, surely making it one of the oldest ski clubs in the U.S. (and evidence of the unexpectedly rich ski tradition here in sunny Southern California). Happy Anniversary SMS!
October 1, 2009
Well, as ski season draws near I'm starting to think up my annual list of things to do. On the website front, I'm hoping to finally update my long-neglected photography gallery section, which hasn't seen any new work (I believe) since 2005. The photo section is the only holdover from the first-generation sierradescents site. Just never got around to fixing it.
In other photography-related news, I've been busy this summer hashing out the details with my two new hd video cameras. The hd transition has been a positively brutal one. I'm intending to write more about that in the future, either here or on my friend's tech site, to hopefully save others some of the formidable grief I've gone through in putting together a viable hd workflow. I remain very excited about the payoff, however. I'm really looking forward to getting out this winter with the hd cams and putting some ski movies together. That's going to be super cool!
As far as actual trips (excluding of course my top-secret projects!), number one on the list has to be skiing Mount Whitney from the summit via the north couloir and mountaineer's route (more…)
September 26, 2009
Yep, that's right, I'm calling it quits. Maybe I'll take up fly fishing…picture me with the sun way down low on the horizon, light all golden and sparkly, wading out in my waders in some remote mountain stream and casting in that poetic way they did in A River Runs Through It. Sad movie, that, but otherwise Mighty Fine fishing. Oh—the video that has induced my early retirement? It's Cody Townsend skiing the Terminal Cancer Couloir in Nevada's Ruby Mountains (via The Goat).
May 9, 2009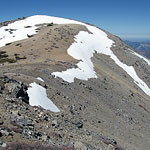 West Baldy – Summit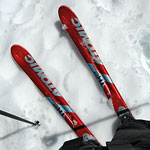 Skis on Summit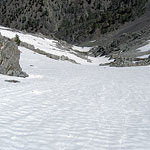 Snow Appears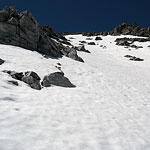 Looking Up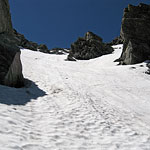 In the Pinch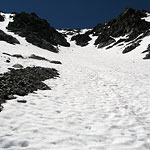 Way Down Low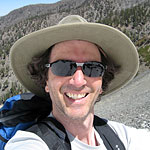 1500′ vertical to go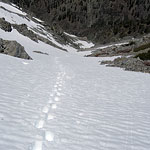 Climbing back Up
Back at the Car
Coming off my Tyndall adventure, I thought it would be nice to do an easy tour this weekend…so I decided to ski Mount Baldy's north face.
Okay, maybe my difficulty scale got thrown a little out of whack on Shepherd Pass, but the advantage of doing something hard right after doing something really, really hard is, the hard thing seems a lot easier.
That's the theory, at least.
Complicating matters today was the fact that I really didn't know how much snow was left on Mount Baldy. Basically, all aspects of the mountain except north are bare now—bone dry, no skiing allowed.
That meant I'd be climbing all 3850′ to Mount Baldy's summit (from the Manker Flat trailhead) with skis and boots on my back. And doing the same to get back down…not including climbing back up the north face.
Okay, maybe this one qualifies as really hard, too.
I was in the mood to push today despite the heat, so I made Mount Baldy's summit around 10:20 a.m., having drawn many curious stares and comments from all the other hikers. Oddly enough, I was apparently the only one with skis on the mountain today. Go figure.
Atop Baldy, my first glance down the north face looked pretty bleak. The best snow—the only snow, really—was a finger stretching down West Baldy's north face. So, I kept on hiking to West Baldy, and geared up for a ski descent.
When I got up West Baldy, I saw that the snow finger from the summit connected to a fine snow field in a gully leading a long way down. Huzzah! Off I went. Snow up top was alarmingly mushy-soft, making me think I'd need to abort, but hardened up nicely in the gully, making for real-live good skiing.
Skiing Baldy's north face, it must be said, is like playing a high stakes game of chicken. How far down do you dare go? There's no way out except to climb back to the summit, so whatever elevation you give, you're gonna have to fight to get it back.
Apparently the thought of solo-post holing while getting cooked by the sun wasn't enough to discourage me today. I rode the snow all the way down, dropping at least 1500 vertical feet.
Let me just say if I wasn't tuned up from Tyndall this would have been suicide. But, I felt strong on the climb back up. Took me an hour and a half to get back to the summit ridge.
I was briefly tempted by all that smooth corn snow to try another lap, but luckily sanity prevailed—especially since I had that 3850′ back to the car still on the agenda.
Back up top I took my ski boots off, switched back to hiking boots, and loaded up the backpack. After a snack and some water, it was time to close out the trip.
I buzzed down the trail, passing many, many more curious onlookers.
What was I, the trail freak show today? I did my best to be polite, though I did secretly try to come up with a variety of snappy comebacks.
By now, the work and the heat was really getting to be a grind. Skis and boots are heavy on the back, any way you look at it. That helped motivate me to keep pushing the pace, even though the heat was just insufferable.
Special note to San Gabriel Mountains hikers in summer: get a very early start.
As worked as I felt when I finally got back to the car, I have to say I really enjoyed this one. I skied about as far down Baldy's north face as I've ever dared to go, and I made it back out in one piece, more or less.
Snow quality and texture was way better than I had any right to expect. Still, I think this was pretty close to the bitter end as far a skiing in the Southland goes.
Forecast temps today were for highs on the summit in the 70′s, with lows only dropping into the 50′s. Not nearly cold enough to keep the snow going for long. Curiously, I never felt worried about wet slides, despite the lack of a hard overnight freeze. The snow was almost perfectly consolidated, and of good firmness. Never saw any significant rollers or even mini-sluffs.
This was sure a strange season in the local mountains, but I have to say, it had its moments. And for me, it definitely ends on a high note.
May 5, 2009
On April 20, Don Sutton and Scott Bornheimer attempted to climb and ski across the High Sierra Route's 50+ miles in a single day. They ended up taking two days to do the crossing, which is probably good news for us, because it means they got to video more of the trip in daylight:
Crossing the Sierra on skis (or on foot, for that matter) has been a dream of mine for many seasons. Seeing this video just stirs the soul. I can't believe how beautiful the range looks when they get to the interior—and it just keeps going on and on. This was clearly the trip of a lifetime. It's given me a real kick in the pants to put together my own crossing. Congrats you guys!
May 2, 2009
The plan was simple: climb and ski Mount Tyndall in a single day. There were good reasons to try—and good reasons not. But it is the lot of the occasionally ambitious ski mountaineer to want to do something significant every now and then, so I drove to the Shepherd Pass trailhead and started climbing at midnight. Ten hours later I turned back, crushed by the scale of the effort. Now, exactly one week later, I am back (more…)
April 19, 2009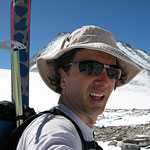 The plan was simple: Tyndall in a day. But as I made the pitch to my climbing partners, one by one they found various reasons to be elsewhere. And who could blame them? To get to 14,018′ Mount Tyndall, you must first contend with one of the worst approaches in the entire Sierra—the Shepherd Pass trail (more…)
→ More SierraDescentsPrevious Posts ↵