February 3, 2010
Local climber and so-so skier Hamik Mukelyan is organizing an informal ski mountaineering race Sunday, February 21 (weather-depending), at Mount Baldy's southeast bowl. Meet time is 10 a.m. at the ski hut. Course details are slim, but the route will be marked with wands, and Hamik expects 10-15 competitors. No sign up necessary: just appear on time at the hut, and you're in. Prizes are limited to the personal satisfaction of crushing your competitors, or whatever other metric you choose. This sounds like a lot of a fun. I'll be away on ski safari that week, but otherwise I'd definitely give it a go…though my current toddler-based training regimen leaves something to be desired.

October 14, 2009
Time to enable the snow script! Mammoth reports 14″ of new snow in the past 24 hours, and down here in the Basin we've been soggy since yesterday morning, making this a very, very impressive October storm for California—and much needed! (more…)
October 1, 2009
Well, as ski season draws near I'm starting to think up my annual list of things to do. On the website front, I'm hoping to finally update my long-neglected photography gallery section, which hasn't seen any new work (I believe) since 2005. The photo section is the only holdover from the first-generation sierradescents site. Just never got around to fixing it (more…)
September 26, 2009
Yep, that's right, I'm calling it quits. Maybe I'll take up fly fishing…picture me with the sun way down low on the horizon, light all golden and sparkly, wading out in my waders in some remote mountain stream and casting in that poetic way they did in A River Runs Through It. Sad movie, that, but otherwise Mighty Fine fishing. Oh—the video that has induced my early retirement? It's Cody Townsend skiing the Terminal Cancer Couloir in Nevada's Ruby Mountains (via The Goat) (more…)
May 9, 2009
Coming off my Tyndall adventure, I thought it would be nice to do an easy tour this weekend…so I decided to ski Mount Baldy's north face. Okay, maybe my difficulty scale got thrown a little out of whack on Shepherd Pass, but the advantage of doing something hard right after doing something really, really hard is, the hard thing seems a lot easier (more…)
May 5, 2009
On April 20, Don Sutton and Scott Bornheimer attempted to climb and ski across the High Sierra Route's 50+ miles in a single day. They ended up taking two days to do the crossing, which is probably good news for us, because it means they got to video more of the trip in daylight. Crossing the Sierra on skis (or on foot, for that matter) has been a dream of mine for many seasons. Seeing this video just stirs the soul (more…)
May 2, 2009
The plan was simple: climb and ski Mount Tyndall in a single day. There were good reasons to try—and good reasons not. But it is the lot of the occasionally ambitious ski mountaineer to want to do something significant every now and then, so I drove to the Shepherd Pass trailhead and started climbing at midnight. Ten hours later I turned back, crushed by the scale of the effort. Now, exactly one week later, I am back (more…)
April 19, 2009
The plan was simple: Tyndall in a day. But as I made the pitch to my climbing partners, one by one they found various reasons to be elsewhere. And who could blame them? To get to 14,018′ Mount Tyndall, you must first contend with one of the worst approaches in the entire Sierra—the Shepherd Pass trail (more…)
April 3, 2009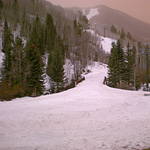 Telluride Dust Storm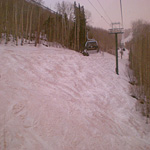 Red Snow
Well, instead of snow, so far we're just getting more dust. As the afternoon progressed, the sky grew more and more pink, and the snow started to look as if God had sprinkled cayenne pepper everywhere.
What a mess!
Adding to the atmosphere, today is Telluride's end-of-season celebration downtown, so a live band is playing while costumed revelers party down.
All that's missing to complete this surreal image are some radiation-stunted mutants trolling about in the shadows, and Mel Gibson leading a fuel convoy at breakneck speeds down the highway.
It's hard not to look at this as some sort of bleak preview of future scenes to come. "It looks like a movie," my Mom said as we rode up the Gondola. "And not a movie I want to see." (more…)
April 1, 2009
Literally—more new snow today; more powder skiing. Ordinarily these are the kinds of days that would have kept my dad off the mountain, but he got a new pair of Volkl Mantras, and I have to say, the skis have made a huge difference. He not only skied today…he had fun. I'm going to have to put up a review of those Mantras (more…)
→ More SierraDescentsPrevious Posts ↵